Est. 1946
Since 1946, Vlamis Liquors has served the tri-state area with a fine selection of liquor, wine and beer. Stop by and explore our extensive liquors selection, featuring one of the areas finest assortment of bourbons. Peruse our craft beer room containing over a thousand different beers and a State-of-The-Art Pegas Growler Station, or dive into our massive wine bin, which is the largest of its kind in Cecil County. Our knowledgeable team will help you find the perfect thing for any occasion, whether it be a small gift, a party, or a entire wedding. Conveniently located at the intersection of MD 279 and MD 213, we hope to see you soon. Outside of everyday shopping, don't miss our tasting's and events! We invite our customers to join us in sampling a vast array of craft beer and fine wine.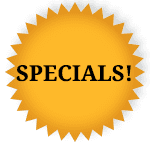 VLAMIS LIQUORS
JUNE SPECIALS

Liquor & Wine Specials
Captain Morgan Spice 1.75 $19.99 1 case limit
Makers Mark 750ml $19.99 1 case limit
Canadian Club 1.75 $13.99 1 case limit
Beer Specials
Michelob Ultra 30cans $19.99 5 case limit
Landshark 2-12pk btls and cans $18.99 5 case limit
Oskar Blues Dales Pale Ale 2-12pk cans $25.99 5 case limit
Oskar Blues Pinner 15pk cans $14.99 5 case limit
CLICK FOR MORE SPECIALS & PROMOS!
FOLLOW US ON FACEBOOK:
(
Must be 21 years of age and logged in
)