Seltzers & Flavored Beverages
Although Seltzer in the U.S. is basically carbonated water (soda water, sparkling water, or club soda), Hard Seltzer is a widely popular type of highball drink also containing alcohol, and often fruit flavorings.*
Vlamis Liquors carries a terrific variety of seltzer and Hard Seltzer products including those featured below! Be sure to ask if you're looking for a specific seltzer.
Featured SELTZERS & Flavored Beverages
White Claw Hard Seltzers
"Crafted with quality ingredients, White Claw® Hard Seltzer is made from a blend of seltzer water, our gluten-free alcohol base, and a hint of fruit flavor. Discover our variety of flavors today."
Visit the White Claw website for more about their products.
Truly Hard Seltzer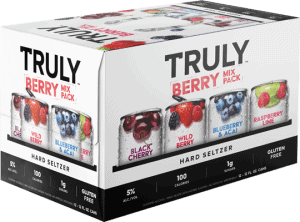 "From OG offerings like Wild Berry and Black Cherry to new twists like Passion Fruit and Citrus Squeeze, these flavors are crowd favorites for a reason (and the reason is they're delicious). Popular at your pool parties, backyard hangs, and your local convenience store."
Visit the Truly website for more about their products.
Visit our store for our selection of Seltzers and Flavored Beverages!