» ANNOUNCING OUR NEXT BIG EVENT «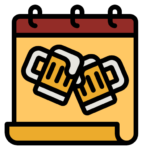 YEARS of BEERS TASTING


MARCH 25th, 2023, 5:00-8:00 PM
Singerly Firehall
300 Newark Ave.
Elkton MD 21921
$53.00 Per Person
$13.00 Designated Drive Ticket
(Transaction fees included!)

(In-store Ticket Purchase: $50.00 Per Person
$10.00 Designated Drive Ticket)
Includes Food, Glassware, and Unlimited Sampling
Raffle Items & Music
The Line Up… It's a GOOD ONE!
2011 Dogfish Head Olde School
2013 Dogfish Head World Wide Stout
2015 Dogfish Head 120 Minute IPA
2016 Founders Lizard of Koz
2016 Founders Backwoods Bastard
2016 The Bruery So It Happens Its Tuesday
2017 Dogfish Head Oak Aged Vanilla World Wide Stout
2017 The Bruery Oude Tart
2018 Goose Island Bourbon County Stout
2018 Perennial Abraxas
2018 Dogfish Head Fruit-Full Fort
2018 Dogfish Head Barrel Aged Palo Santo Marron
2018 Founders Dankwood
2018 Victory Java Cask Gold
2018 Saint Bernardus Christmas
2018 Rouge Dead n Dead
2019 Mispillion Happy Ending
2021 Goose Island Bourbon County Cherry Wood
Tickets Must Be Purchased in Advance BY MARCH 20th, 2023!
Online (BELOW!) or @ Vlamis Liquors Elkton Location

~ TICKET PICK-UP at the store BY 4:00 pm 3/25/23 (event day) ~
! Limited Tickets Available !
TICKETS: Select the number of tickets you need below and click "Add to Cart." You will have the option to log into your PayPal account OR pay as a GUEST by clicking the WHITE button, "Pay with Debit or Credit Card," which is located directly below the "Log in" button.
Designated Driver tickets are at the end of the Option Dropdown. If you wish to purchase both drinking and "dd" tickets make your first selection, then click "Continue Shopping" in the upper right of the PayPal page.